Discover more from The Indian Dream
Discover the next big business idea before it explodes.
Over 1,000 subscribers
#005 - 🌿 Ayurveda 2.0 Trends in India
The modernisation of a 5,000 year tradition.
We would love to hear feedback from our readers - please send us an email at theindiandream20@gmail.com.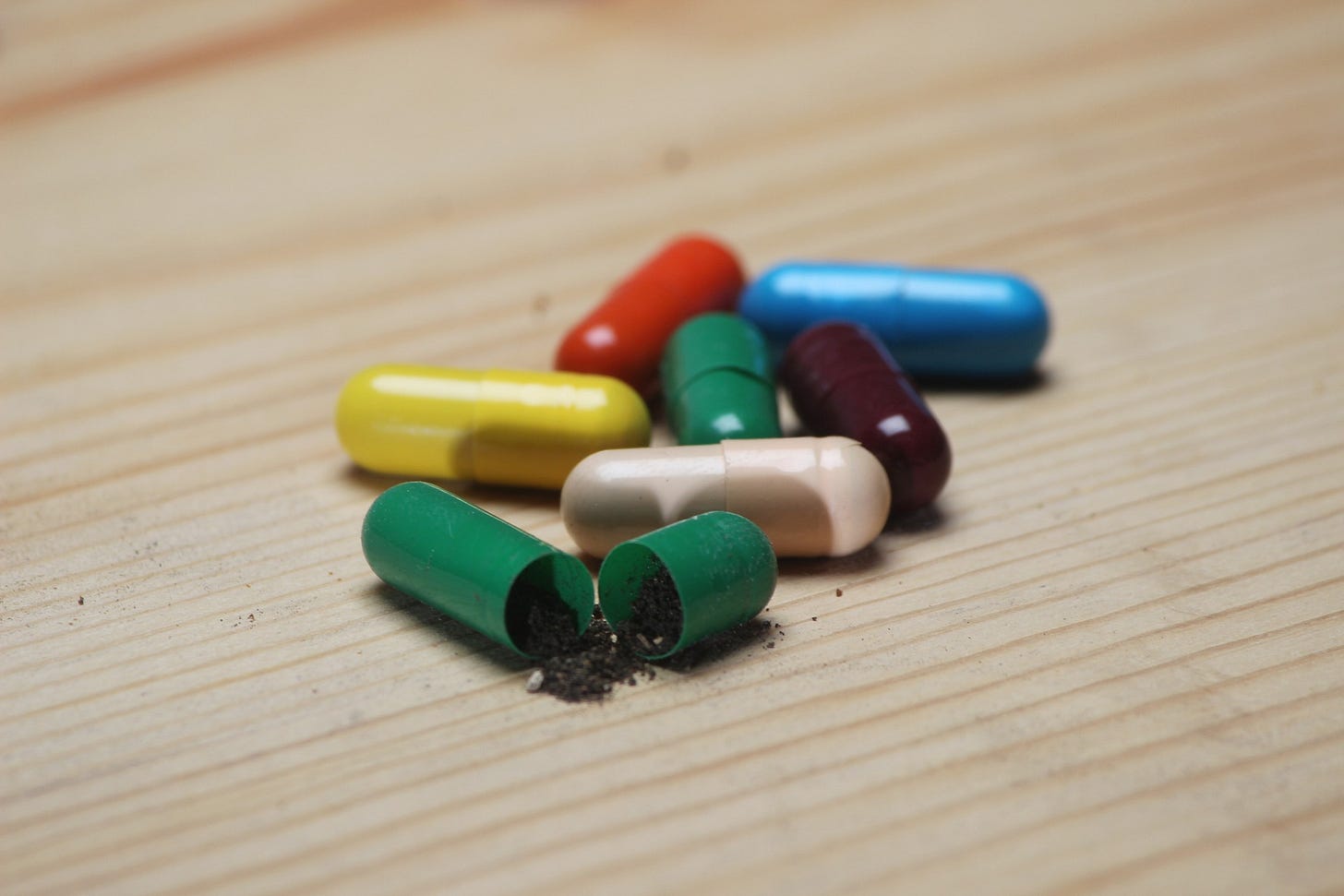 "The yoga industry is worth over $84 billion worldwide" (I saw many numbers online and picked a big one). Yoga's commercial value has been realised in far greater numbers by non-Indian entrepreneurs despite India's first-mover advantage of a few thousand years. We're seeing the same happening to Hemp which has been used in India for millenia but the global narrative is dominated by other countries.
The Global Ayurveda industry was about $3.5 billion in 2015 with $3 billion out of that from India itself. The Global Wellness Industry, however, is a $4.5 trillion market with traditional medicine constituting $360 billion in 2018. Why can't Ayurveda be a bigger chunk of this market? What is stopping Ayurveda from becoming a global force like Yoga? What can Indian entrepreneurs do to change this global narrative?
But first - they probably need to crack the Indian Market itself. The Indian consumer is also changing fast and so is their relationship with Ayurveda. We explore the opportunity of building an Ayurvedic business in this week's newsletter.
🧐
Market Gap
Covid-19 has shifted many people's approach to wellness - they would rather stay proactively healthy and avoid illness.

Ayurveda caters to this lifestyle through the immunity-boosting approach taken by purveyors of Ayurvedic lifestyles.

Generational shifts in consumption and modern commerce such as E-commerce, Direct to Consumer, Online Consultations, etc. have caused a fundamental shift in the way consumers interact with Ayurvedic products and service providers.

India used to be over-riden with infectious diseases, childhood and maternal deaths but now we are in a time of lifestyle diseases. Therefore, there is an increased emphasis on Wellness & Lifestyle amongst Indian consumers.

Allopathy & Western Medicine are not seen by many Indians as capable of solving chronic diseases where Ayurveda, a lifestyle focused approach, is seen favourably.

From 2015 to 2017, the proportion of Indian households using Ayurvedic Products increased from 69% to 77%.

The BJP Government, in power since 2014, has pushed Yoga & Ayurveda domestically and globally in addition to setting up the Ministry of AYUSH in 2014.

India is a relatively young country but quickly ageing.

The proportion of senior citizens to the population was 9% in 2011 but will reach 19% by 2050.

Ayurvedic supplements and treatments are becoming more popular in the Western World.

This one surprised me: The World Health Organisation has a 'WHO Traditional Medicine Strategy 2014–2023' whose "current focus is to develop norms, standards and technical documents."

Between 1999 and 2018, the number of countries with Traditional & Complementary Medicine (T&CM) Policies increased from just 25 to 98 including countries such as Canada, Germany, the UK, Australia and other Western countries.

93 countries recognise that Ayurveda is used by their population.

I highly recommend that you check out this WHO Report and just Control+F the term 'Ayurved' - you will be surprised by the number and range of countries that use Ayurveda.
🥊
Players
Manufacturing
Drugs for Human Consumption
Venture Funded Startups
Veterinary Medicines and Feed Supplements (700cr market 😱)
Cosmetic Products
Services
The services section can be broken up into:
Consultations (online or offline) through Ayurvedic Doctors & Nurses

Hospitals & Clinics

Dispenseries

Ayurvedic Spas & Wellness Centres
The services sector is more heterogeneous than the manufacturing sector because of the low capital requirements. However, companies like Jiva have been able modernise and consolidate the
Jiva Ayurveda - 90cr Revenue - Read their story here.
🙏
Our Predictions
The key to opening up the Ayurveda market is going to be standardisation, research and validation.

R&D will provide the legitamacy required for Ayurveda to suceed in the modern world.

Standardisation by government or industry bodies will create a safe environment for consumers.

The myriad players entering the Ayurvedic space with large VC cheques will drive consumer awareness, opening up the space for even more players.

The Ayurvedic startup sector is still struggling with supply chains and logistics and "the other complexities of claim validation, building trust, and creating the right sources and manufacturing processes".

As more money pours into this sector, these problems will eventually need to be solved, just like the cold chain problem continues to be solved right now.

Attitudes in the Western World towards China have shifted dramatically over the past year.

The Ministry of AYUSH, and the Government as a whole, have the opportunity to push Ayurveda on a Global level. Predicting the Government's success is beyond our best supercomputers.

To launch Ayurveda on a global scale, standardisation and quality control are essential.

Technology has already shifted the way the industry works.

As telemedecine deepens and Direct to Consumer brands flourish, small dispenseries and hospitals may lose out to digital first brands.
🛒 Opportunities
Create modern content around Ayurveda to help consumers understand the relevant products for themselves.

Baba Ramdev has been a content producer who marketed Patanjali to its enormous success.

We say this in every edition of the newsletter and we'll say it again - start with building your Audience First.

Start a consumer facing Ayurvedic brand - it has never been easier.

A bunch of US based/focused Ayurvedic brands are now popping up - why not look at International markets as your target segment?

Kama Ayurveda and Forest Essentials showed everyone the potential of a luxury Ayurvedic brand.

Manufacture for private labels - also a large export potential.

Build a marketplace for Ayurvedic products.

Enable Customer Trust:

Start a certification body, such as The Fairtrade Foundation, to certify that products match the Ayurvedic standards to build customer trust.

Set-up a testing lab for companies to verify their raw ingredients or final products to build customer trust.

Content creation also enables customer trust.

Build a farm focused on Ayurvedic herbs grown as per traditional needs.

Getting consistent high quality supplies is an issue with large players sourcing from multiple small farms and locations. For example, "the roses for (Kama Ayurveda's) products are sourced from Kannauj, the saffron is sourced from Kashmir and the Indigo is grown in Kama Ayurveda's own organic garden in Coimbatore"

Modern farming practices do not mesh with the traditional requirements of Ayurveda in addition to the "low-quality air, water pollution, soil pollution and an abundant use of insecticides and pesticides".

Start an Ayurvedic Old Age Home.
🥡
Takeaways
Ayurveda is modernising across the entire supply chain.

Consumers are consuming more wellness products - in India & abroad.

More Government focus on Ayurveda.
🧐 Looking to explore this market?
You can drop us an email and we'll do our best to connect you to relevant people.
📉 Challenges
"How do you even know these products work?"
This is where clinical trials, standardisation & certification will play a key role.
"Ayurveda is just a fad amongst these hipsters."
A 5000 year old fad doubling every few years.
"These herbs are full of chemicals & pesticides"
It's a common problem across our food chain - we need to get more serious about soil pollution.
🦋
Share the research with your Friends
🔗
Links